Packing up a suitcase may seem like a simple task, but if you do it wrong, you may end up losing valuables, paying taxes on overweight bags, or cleaning up messy spills. That's why it's essential to learn how to prepare a suitcase intelligently.
Pack the Perfect Suitcase in 6 Easy Steps
The suggestions below provide guidance on each step of packing a suitcase, from choosing a bag to the eternal debate between rolling and folding clothes.
1. Pick your bag
First things first: choose your bag. Realistically think about the duration of your trip, the types of clothes and other objects you will have to carry and go with the smallest bag you can go with, you don't want to carry a half-empty suitcase or, worse still, do a lot of things that you don't they only serve because there is space. After nailing the desired size, consider the additional options: do you want the expandable option of a soft bag or do you prefer that your fragile items are protected by a hard shell? How about a front pocket for tablet or book? Do you want 360 degree swivel wheels?
2. Pack shoes first
Since shoes are generally the heaviest and bulkiest objects in the bag, place them on the bottom of the suitcase; otherwise, it is likely to tip over every time you release it. Instead of putting them in direct contact with your clothes (that sucks), put them in shoe bags to keep everything clean. Professional tip: if you have problems, you can also use recycled plastic bags or a hotel bath cap around the soles. Bring sneakers? Also add some bags of shoe deodorant: the last thing you want is to discover all the smell of the bag when you arrive at your destination.
3. Roll clothes and condense thicker items into compression packing cubes
For light items such as shirts and shorts, use the roll-up method, i.e. smooth wrinkles, fold the sleeves and other protruding parts, then roll firmly into a uniform shape until the object is compact. For larger items, such as sweaters, consider investing in compression packaging buckets. Using a double zip method, they squeeze the extra air to create a thinner rectangle to pack.
4. Consolidate toiletries
In checked baggage, pack all your toiletries in one hanging bag. The hanging bags not only fold to be compact, but are also easy to use once they reach their destination. For hand luggage, you probably want two bags: one for non-liquid toiletries and a quarter bag approved by TSA for all your mini.
5. Find hidden spaces for assorted items
Now that all the shoes, clothes and toiletries are stowed away, it's time to squeeze the smaller objects that fit the cracks and crevices between the bulky items. You can roll up socks and underwear in these areas, fill fragile accessories like sunglasses between soft layers of clothing and place any weird outfit on top. To keep everything organized, use small bags and bags for pendants that could get lost in confusion.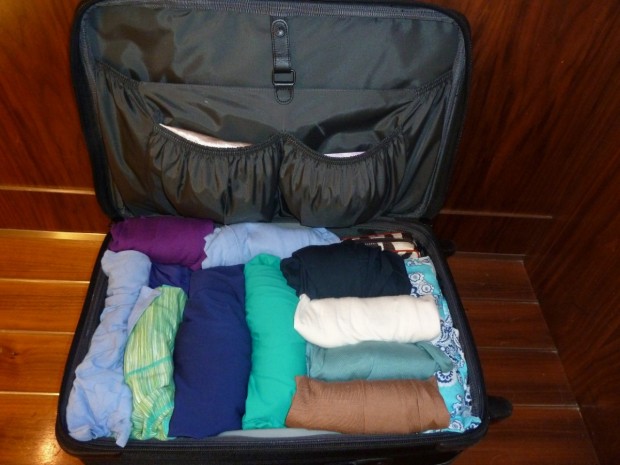 6. Put on the finishing touches
Once everything has been compressed, it's time for the final details. Make sure you complete a baggage tag with your contact information and place it securely on the handle of a bag in case of loss; For this purpose, you may also want to purchase a baggage tracking device, such as Tile Mate, which will help you locate a lost baggage. If you fear that your suitcase looks like everyone else's, use a distinctive luggage tag. Make it easy to recognize or tie a colored ribbon on top. You can also purchase a TSA approved luggage lock to protect your belongings for added security. In the end, after the suitcase is ready to go, take a reliable digital luggage scale and weigh that child; Documented baggage generally must weigh less than 50 pounds, although it may depend on the airline. Have a good trip!
Also Check…………….!