Without a doubt, Windows 10 is gaining popularity these days. More and more users are choosing to install Windows 10 on SSD when they have a PC to install. How to install Windows 10 on a new PC / hard drive? And how about reinstalling Windows 10? Here is the complete guide along with the pictures.
Step 1: Buy Windows 10
Today, you can no longer upgrade to 10 for free, so purchasing Windows 10 should be your first step. Go to the Microsoft Online Store to complete this process.
In fact, what you're buying is a license key to activate Windows 10. If Anyone can download and use Windows 10 for 30 days, but a license is required for permanent access.
Step 2: Create Windows 10 Installation Media
Traditionally, users download Windows 10 ISO files, burn them to DVD using third party software, and then install Windows 10 from DVD. Now things get a lot easier, Microsoft offers an easy-to-use Microsoft media creation tool to help you prepare installation media.
1. Click Here to download this tool and run it. When asked, accept Microsoft software license terms and then choose "Create installation media (USB flash drive, DVD, or ISO file) for another PC" before you click Next.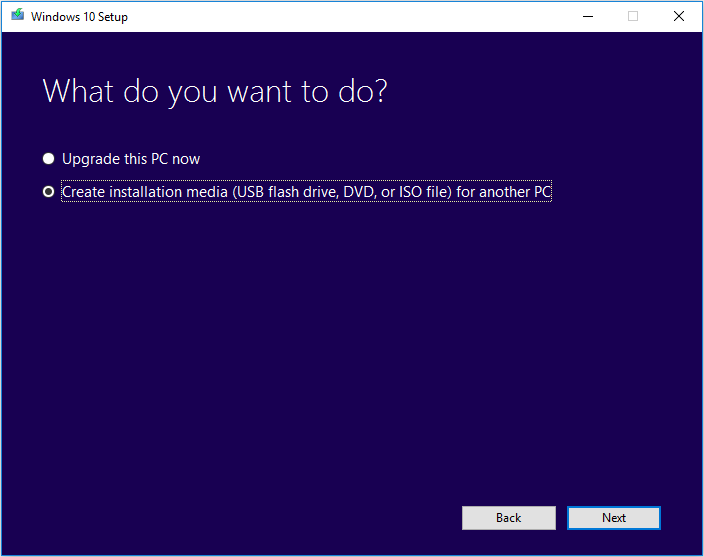 2. The wizard will ask you to select Language, Windows Edition and Architecture. You can accept the recommended options or make your own choice. Then click Next.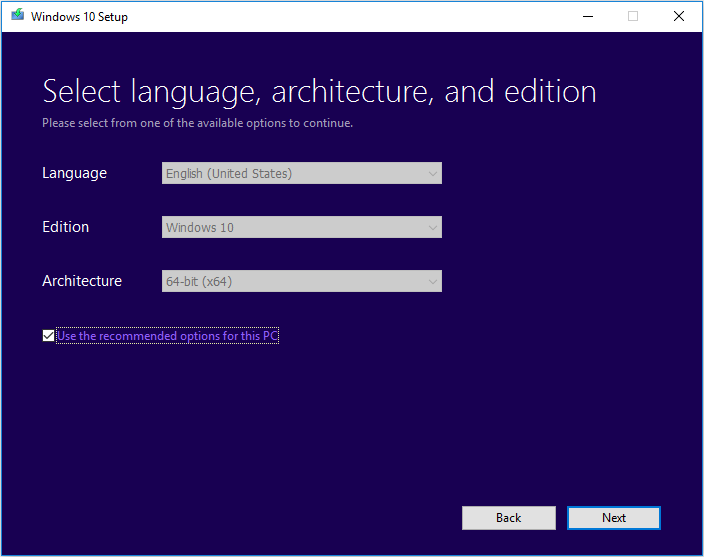 3. In this step, you need to choose either to create a Windows 10 install USB or to extract the ISO file (you will need to burn it to a DVD later by yourself). It's up to you. Here take the former one for an example. Just prepare a USB drive that is large enough (at least 8GB) and click Next.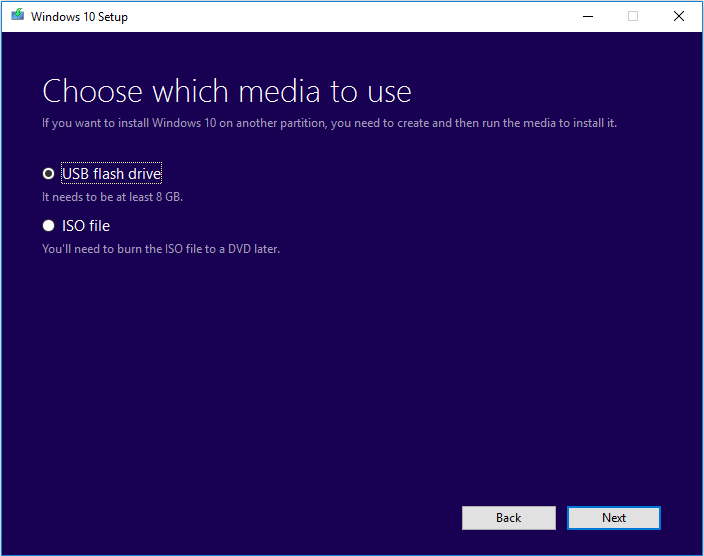 4. Select the removable drive from the list when asked, and make sure you've copied any files you want to keep off it because it will be formatted during the process of creating Windows installation media. Click Next to continue.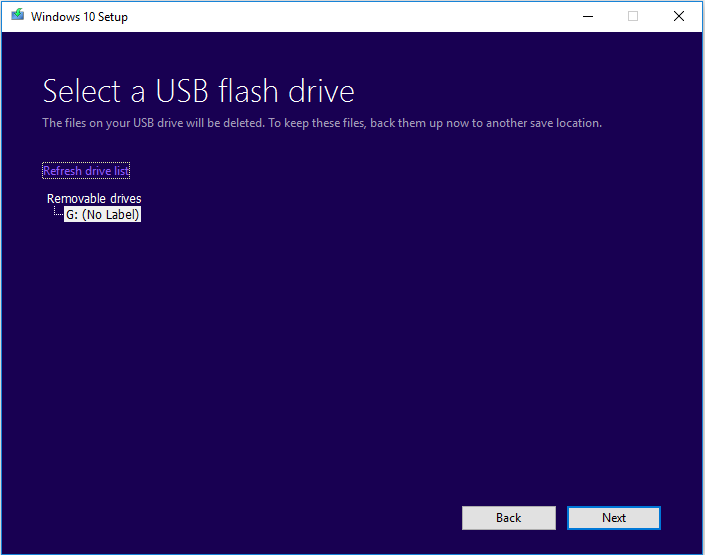 5. The tool will start downloading Windows 10 as well as any available updates to your USB drive and make it bootable, which allows you to install Windows 10 later.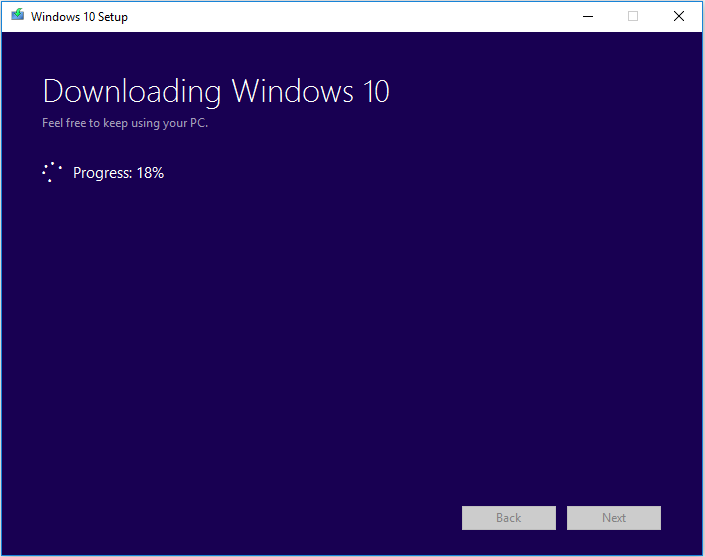 6. When the process is successful, you'll see a message that reads "Your USB flash drive is ready". At this time, click Finish to exit.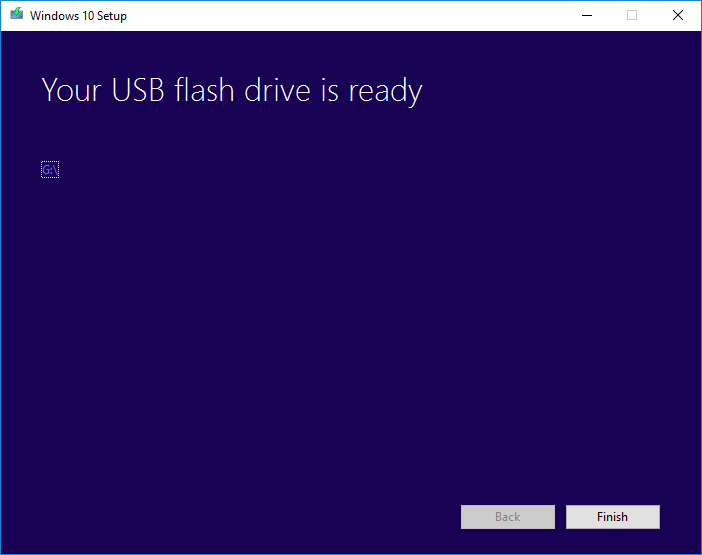 Step 3: Install Windows 10 on SSD/HDD
Using Windows 10 installation media, how to install Windows 10 from USB? Follow the detailed instructions below:
Insert the drive into the PC or laptop on which you want to install Windows 10. Then turn on the computer and it should boot from the flash drive. If not, enter the BIOS and make sure the computer is set to boot from the USB drive (use the arrow keys to place it first in the boot sequence).
When the computer boots from the USB drive, a Windows logo will appear, followed by a language selection. Confirm the language to be installed, the time and currency format, and the keyboard or input method. Then click Next.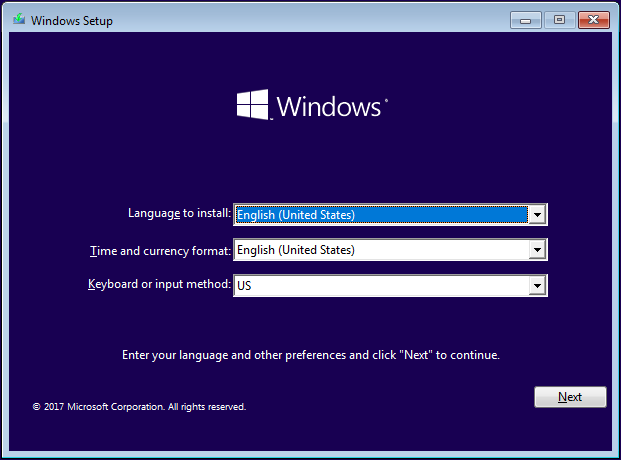 3. Click Install now.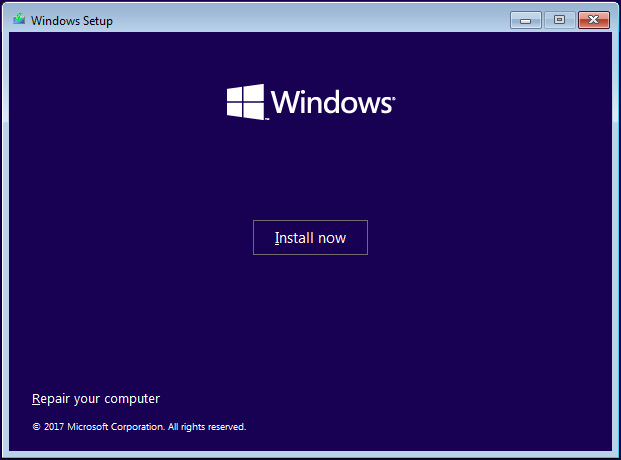 4. You will be asked to enter the license key, do as you are required. (You can also click "I don't have a product key" to skip and choose the Windows 10 edition you want. By ignoring, you will be required to enter the license key later.)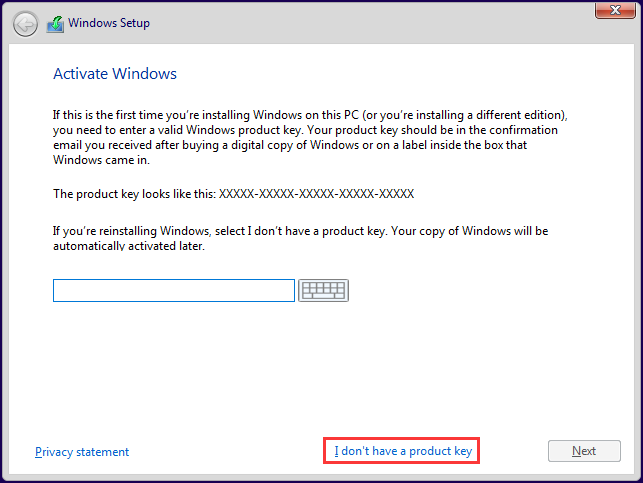 5. Accept the license terms and click Next.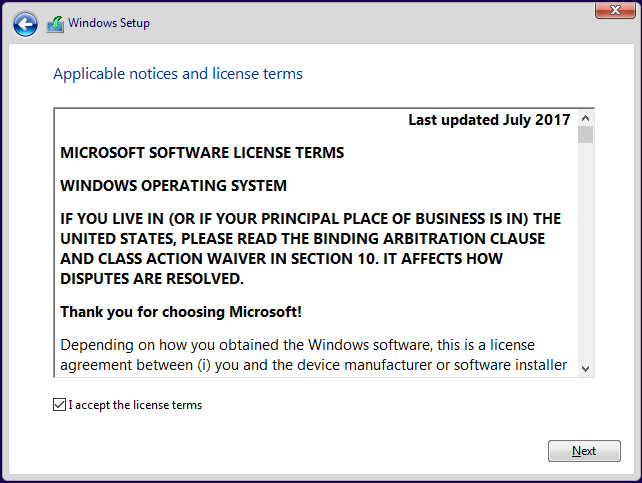 6. Here you need to make your own choice. We just take the latter one for example.
[Upgrade: Install Windows and keep files, settings, and applications]: This option will keep all your files, settings and applications saved in the system partition there. However, note that it is only available when a supported version of Windows is already running on the computer.
[Custom: Install Windows only (advanced)]: This will remove all your files, settings and applications and give you a clean install of Windows 10. Choose this option if you want to wipe your hard drive and make a fresh start, or you are installing Windows 10 on a new hard drive. We recommend backing up your files before you continue.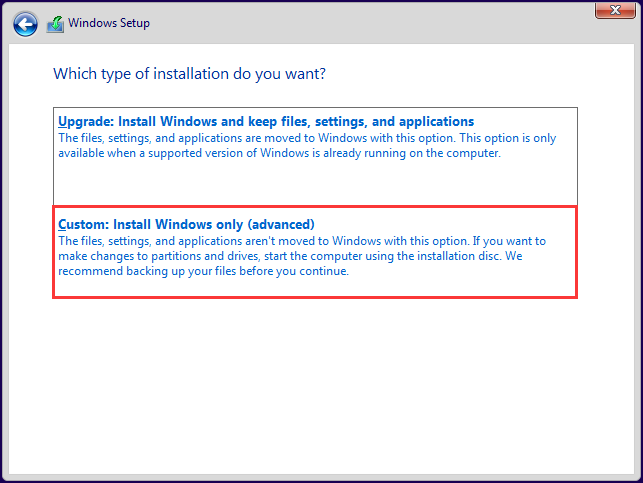 7. What you'll see in the next screen depends. But overall, you need to choose a location and click Next to install Windows 10.
Situation A: If you only have a new drive connected, you will see a Drive 0 Unallocated Space listed there. To install Windows 10 on a new hard drive, just select it and click Next to install Windows 10 on new hard drive.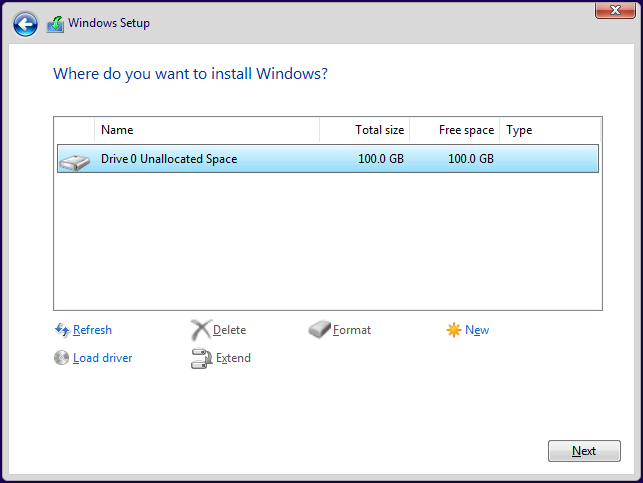 Situation B: If you have got more than one hard drive connected to your PC, you'll be shown a screen with several drives called "Drive 0", "Drive 1" and so on. And if a drive is already partitioned, you will see "Drive 0 Partition 1", "Drive 0 Partition 2", "Drive 0 Unallocated Space", and so on.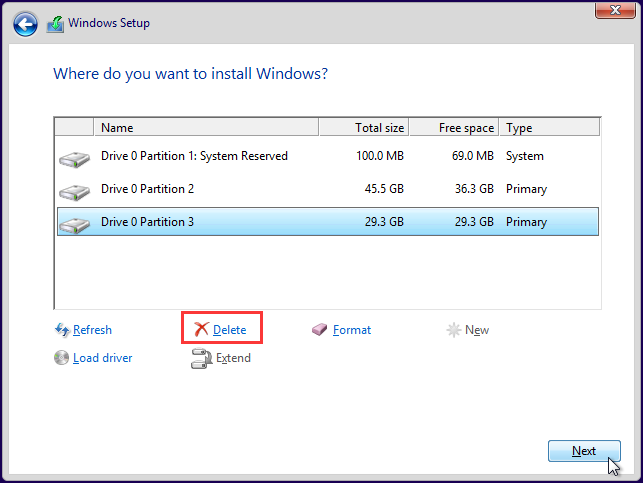 In Situation B, you have 2 options, that are to install Windows 10 on the original system partition or to delete all partitions (by selecting each one and clicking the Delete option) to go back to Situation A to install Windows 10. This will erase all data on the partitions, so double-check that you're deleting partitions from the correct drive and you're absolutely sure you've already backed up everything you need.
8. Windows will then start the installation process. Mostly, the installation is automatic, but keep an eye on it and answer any questions you're asked.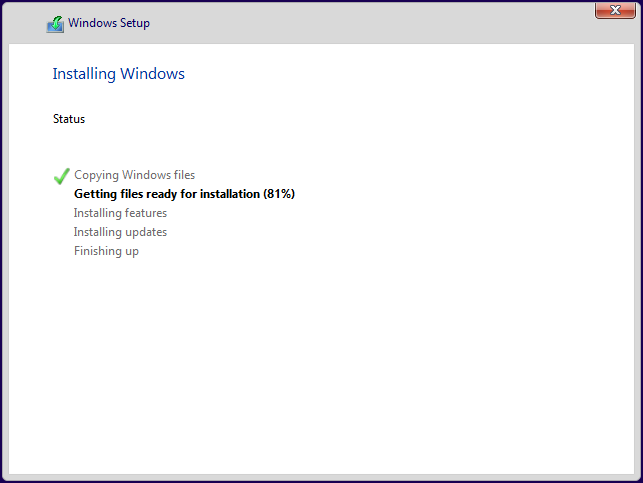 Knowing how to install Windows 10 from USB, do you know how to install Windows 10 from CD / DVD? In fact, the process is the same. Connect the CD / DVD to your PC and your computer should boot from there. The following operations are the same.
Step 4: Sign-in to Windows 10
Once the installer has finished its work, Windows 10 will boot up, get the updates available, ask you a few questions, sign in with your Microsoft account and everything is ready.
The initial questions and options are worth reading, as opting for the defaults means that a significant amount of personal data will be sent to Microsoft's servers for convenience. For example, the data is stored so that Cortana knows about you and can be more useful. It's not sinister, but some people think differently and would refuse.
When you finally get to the Windows 10 desktop, connect to the network and give Windows 10 some time to search for drivers for your hardware. The screen resolution may be wrong, but it will be fine after updating the drive. And you'll have to manually transfer your files and install apps once Windows 10 is installed.