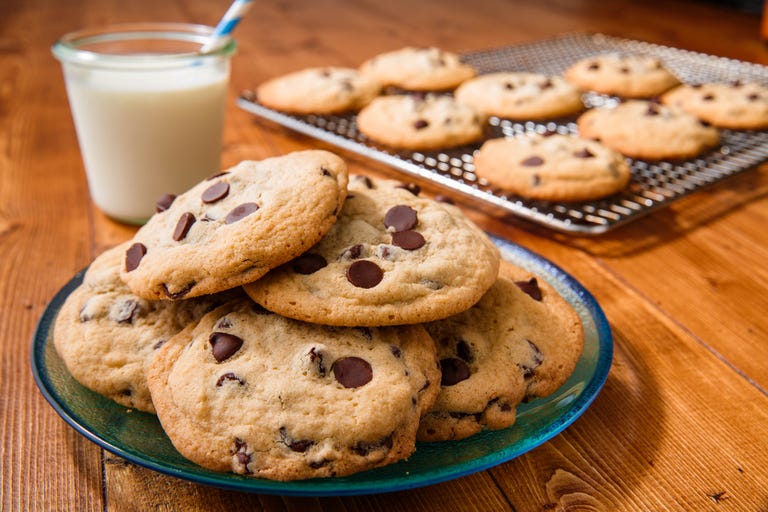 Chocolate chip cookies are deeply personal. Everyone has an opinion on what it takes to do their best, but when it comes to this, no one can resist a freshly baked dish, regardless of its consistency (or degree of cooking).
It all boils down to mastering some tricks we learned after talking to the bakery professionals and spending too much time trying out the imitation versions of the best baked delicacies. Next, our 5 commandments for the perfection of chocolate chip cookies.
1. Gimme Some (Brown) Sugar.
Many chocolate biscuit recipes require equal parts of white and brown sugar (includes the classic Toll House recipe in the yellow envelope!), But for that rich and chewy caramel flavor, tilt the scales, using a little more brown sugar.
2. Get Your Fats Right.
Of course, there are many substitutes for butter, but they will have a serious impact on the final result. If you love spongy biscuits that are like a freshly baked dough, completely skip the butter and choose the cream cheese. Margarine produces biscuits that stretch thin like a wafer, but normal butter at room temperature gives chewable and pleasant results to the crowd. (And if you feel really elegant, choose European butter, which gives the delicacies a richer and buttery taste.)
3. Let Your Chips Hit the Fan.
Continue, pour the entire 12-ounce bag of semi-sweet chocolate chips into the dough. Better yet, turn it into a bag and a half. Although people discuss the consistency of the perfect chocolate biscuit, what really makes the difference is their chip-biscuit ratio. The more chips, the better.
4. Give Them a Finishing Touch.
By pressing a few additional drops of chocolate on each cookie before cooking, it gives them that look worthy of Instagram that you see in almost all cookie ads. To really improve things, sprinkle some rickety sea salt on the biscuits, relax with salt. It will increase the taste of chocolate, making it even more decadent.
5. Store Them Just Right.
If you ever have baked cookies, just to make them hard in a few hours, you already know what it means to have a broken heart. Some swear by adding a slice of apple to the biscuits, then sealing it in a tightly sealed bag or in a Tupperware container, but this can give the candy an apple flavor. A better option? Put them in a zippered bag, squeeze out the excess air and add half a slice of bread (or less), according to Cook's Illustrated.
INGREDIENTS
2 1/2 unsalted butter bars
1 c. sugar cane
1/2 c. caster sugar
2 teaspoons of vanilla extract
2 eggs
2 3/4 c. all-purpose flour
1 teaspoon of baking soda
3/4 teaspoon of salt
2 c. semi-sweet chocolate drops
DIRECTIONS
Preheat the oven to 375º and cover a large pan with parchment paper.

With an electric mixer, whisk the butter and sugars until they are soft and fluffy, about 2 minutes. Slowly add the vanilla extract and the eggs.

In a separate bowl, mix the flour, baking soda and salt. Add the butter and sugar mixture. Fold in chocolate flakes.

Roll the dough into 1-inch balls, placing them about 2 inches apart on a prepared baking sheet. Cook the biscuits for 10-12 minutes or until lightly browned.